Keep in touch!
The main message of the international documentary film festival One World is clear this year: Let's keep in touch!
Who knows firsthand what it's like to be a journalist in a country where seeking the truth can cost you your life? What is it like to be a teenager who instead of partying spends their youth repeatedly attempting to flee a country that denies its citizens their basic human rights? What is it like to be a woman who has been torn away from her family by terrorists to make her their sex slave? How does it feel to be a pregnant Slovak girl who can't afford to bring a new life into the world or what about being a parent who was raised in poverty and never received a proper education? Isolation is not only a state that we have experienced for several months due to the pandemic.
However, the reality is that we are connected to one another in more ways than we can imagine, and the documentaries which are brought to us by the One World festival allow us to see this, either at a cinema or at home. The main message of the international documentary film festival One World is clear this year: Let's keep in touch! Its 22nd season will be held 5-11 November.
"2020 forced us to reconsider our understanding of 'contact' as a term, and we had to do so on multiple levels such as mutual gatherings of people, maintaining contact with the world of facts and verified information, maintaining a therapeutic contact with nature or maintaining a sensitive contact with the environment we live in," Eva Krizkova, the Executive Director of One World, explains.
This is also the reason why the festival makes the documentaries available not only to the typical viewer but viewers with special requirements too. Special screenings will be organized so that the experience can be shared by all, even those with a hearing or visual impairment. At the same time, the festival aims to maintain contact with parents of children who would like to attend the festival, as well as with dog owners who want to enjoy the screenings with their beloved pets. Contact will also be maintained with homeless people since a cinema visit is not usually affordable to them.
"One World cares about the environmental sustainability of its activities and about viewers' health too," the Executive Director adds. "That is why we have chosen a hybrid form this year. Online is for those who for different reasons prefer to follow our programme in the comfort and safety of their homes. If the pandemic situation allows, the festival could also take place in-person so we could maintain and improve contact among our attendees."
One World introduces a new visual design
The new theme of the festival is accompanied by a new visual design created by Katarina Balazikova, a graphic designer and last year's winner of the National Design Award in the New Horizons section. "The One World festival addresses critical themes and I have tried to do the same thing for more than eight years. As a graphic designer I also use my critical faculties to contribute towards a critical reflection of society."
It was crucial for One World to create a new visual identity that could be used for consistent communication. The new visual identity should also be distinguishable and in accordance with the main themes of the festival for years to come. "I really appreciate the efforts of the organizers to visually unify the concept of the festival and I'm thankful that they enthusiastically accepted the rather non-traditional layout of mine," Katarina Balazikova says. "This concept will speak to people. Even though it is quite unconventional, it's still human and loaded with clever ideas. To be honest, some controversial ideas may emerge too. After all, the same will be true of all the documentaries that are going to be represented by the visual identity for years to come."
The visual identity of One World mediates contact between the protagonists of the individual documentaries and their viewers so they can observe them within the programme of the festival and their presented life stories. The first of them speaks about contact with her inner self and about contact with her past and her roots. It is from the documentary Homecoming – Marina Abramovic and Her Children, directed by Boris Miljkovic.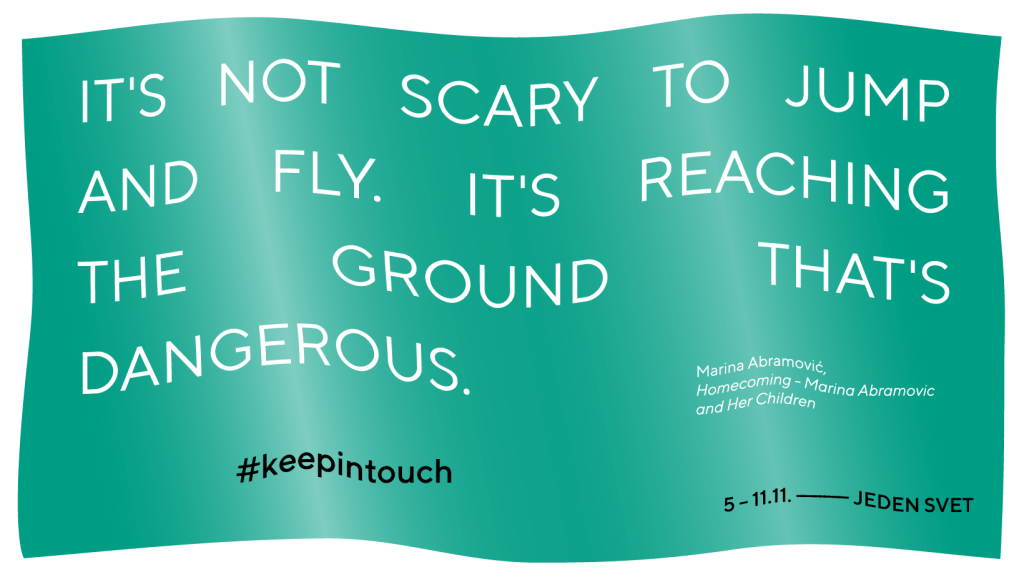 "I came from Tito's Yugoslavia; it was really a dark place," says Abramovic at the beginning of the film. She is not afraid to reveal the dark side of her personal life. What is it like to be a female artist in a country that isn't free? Or how does it feel to be the daughter of national heroes of communist Yugoslavia? What about plucking up the courage to have three abortions? How does returning to a place where you have not been welcome for years feel? "The return felt like peace," Abramovic revealed to The Observer.
One World chooses to introduce its new thematic and visual concept through Marina Abramovic's keynote idea, which appeals to us to make contact with our inner selves, with our country and surroundings before taking steps towards distant worlds.
Translated by Michal Ganát, student of Department of Translation Studies, Constantine the Philosopher University in Nitra.
MAIN MEDIA PARTNERS

MEDIA PARTNERS