IMPACT DAYS – the industry programme of One World
This year for the first time, our industry programme will connect Slovak documentary filmmakers with potential donors, non-profit organizations, media, experts in specific fields and documentary campaigns. Its name is apt – Impact Days – and during the festival week (5 – 11 November) this unique connection will enable filmmakers to open the door to the social impact of documentary films.
Impact days – public programme
(Registration via GoOut necessary)
Who is impact producer?
Monday 8. November at 1PM
Hasse van Nunen (impact producer and documentary producer of production company Een van de jongens – www.eenvandejongens.com) takes you into the world of impact production through her latest production 'Class', a seven episode documentaire series about the inequality of chances between children in education. This series takes the viewer into the classrooms where teachers, school deputies and other care givers fight their hardest to give their kids all the changes they deserve. But the educational system and the reality of children is sometimes too tough… After the series was broadcasted, Hasse and her team took the series to the schools and to politicians to start a movement to change the way education works today. With great success. She will tell you all about it.
Movies That Matter – the social impact of festivals
Monday 8 November at 2PM
A panel discussion on the potential reach of festival industry programmes focused on social impact. We will discuss with the organizers of established human rights festival Movies That Matter and with impact producer Hasse van Nunen the global tradition of industry programmes focused on impact and what they can achieve.
Guests: Maarten Stoltz (Movies That Matter Festival, Netherlands); Margje de Koning (Movies That Matter Festival, Netherlands); Hasse van Nunen (impact producer, Netherlands). Hosted by Ivona Remundová (Institute of Documentary Film, Czech Republic).
EURECA (European Environmental Calculator)
Tuesday 9 November at 10AM
The introduction of sustainable processes in the audiovisual industry is a great challenge. There is not a single magic solution. To stimulate industry into implementing more sustainable practices, an intelligent combination of initiatives is needed – raising awareness of the environmental impact of audiovisual production and its measurement, the motivation of actors and crew, acquiring the necessary knowledge and financing, and learning how to function sustainably in different areas.
EURECA (European Environmental Calculator) is a pilot activity within the European project Green Screen that aims to evolve a single simple European carbon calculator for the audiovisual industry. EURECA will enable the measurement of the carbon footprint of audiovisual productions, raise filmmakers' awareness of the environmental impact of audiovisual production and help them plan filming. Zuzana Bieliková of the Slovak Film Commission will introduce this tool and the potential for its usage within Slovak audiovisual production.
Audiovisual Services Without Barriers
9 November at 6PM
Just imagine visiting a cinema without experiencing the real pleasure of a film screening because you couldn't hear or see what was happening on the screen. The effort to remove all barriers in shops, every form of transport and in the streets is widespread these days – and no group should feel marginalized at cultural institutions either. That's why representatives of cultural and audiovisual institutions will come together to discuss this topic with experts on inclusion within Europe. Inclusion means respect for and acceptance of every human being. The One World festival aims to connect with all viewers without discrimination. The festival also aims to share its know-how and experience with other organizations so they can be applied in conventional cinema screenings. A short lecture by Mariana Chytilová on inclusive audiovisual events will be followed by the discussion.
Hosted by Emília Perez (expert in media accessibility). Discussants: Alexandra Strelková (Association of Independent Producers); Zita Hosszúová (general manager of the Kino Lumière cinema); Mariana Chytilová (accessibility consultant); Dušana Blašková (Slovak Blind and Partially Sighted Association, the City of Bratislava); Tomáš Janísek (Union of Film Distributors); Martin Šmatlák (The Slovak Audiovisual Fund), Michal Hefty (director of organization Myslím – centre for Deaf culture)
To make a good film is not enough
Tuesday 9 November at 4PM
As directors and producers of documentaries, we usually do not have the money for a broad advertising campaign to ensure audiences know about our films. But we do have real protagonists who can reach beyond the boundaries of our films, or we can broach an important social topic. As a result, our work can attract the attention of a number of journalists. Unfortunately, it does not usually happen automatically. Debuting director and producer Jindřich Andrš will reveal via a unique case study the media campaign for his film A New Shift which led to huge media attention not only locally but also abroad.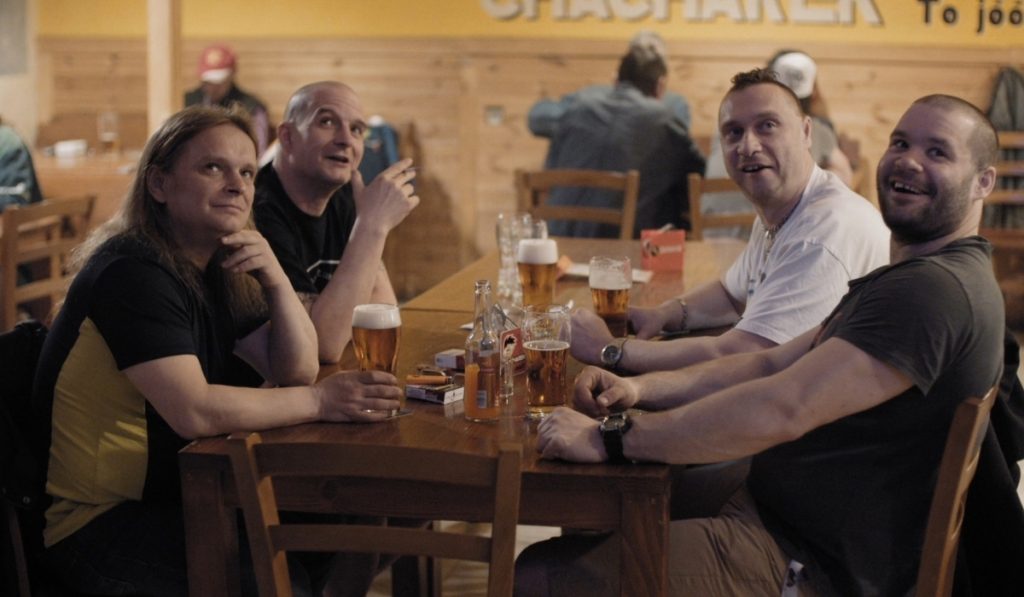 Impact days – social impact workshop
The pilot season of Days of Change will feature three documentary teams that over three intensive days in consultation with experts will create concepts for marketing campaigns aimed at strengthening the social impact of their films, or, in other words, at achieving social change. At the end, an international jury will award the most interesting campaign with a prize from the Berlin company Betteries.
It's Not Your Fault
Directed by: Paula Ďurinová
Producer: Guča (SK), Co-producers: CLAW AV (CZ), Jana Cisar Filmproduktion (GER), Universität der Künste Berlin (GER), Radio and Television Slovakia (SK)
An essay on collective anxiety and the challenges of living in a performance-oriented society. Berlin represents the European metropolitan space. Through young Eliana, the director's alter ego, we follow a story of burnout, job requalification and also healing of the soul using new forms of therapeutic strategy. Everyday life blends into dream spaces – emotional incubators where the individual become collective. The film's creation becomes part of the personal journey of the author and the heroine.
The Earth Connects Us
Directed and produced by: Michal Marguš
Camera: Eileen Yaman (Tomáš Bartaloš)
The Earth Connects Us captures the events at the Climate Workshop, a 10-day gathering where a group of 30 people, young and old, along with academics and experts, seek answers to the greatest challenge of our generation. It brings a new perspective to the climate crisis: seeing it as an opportunity to rethink the foundations on which modern society is built. It challenges the basic economic theories that do not take into account the finite nature of natural resources in their models and treat nature as something that can be taken from indefinitely. It also examines why we as a society do not live in harmony with nature. It answers the question of whether this has always been the case, or whether this disconnection is a consequence of the modern era and lifestyles dominated by the quest for material well-being, and our task today is precisely to find the lost connection and balance between the human and natural worlds.. Ukážka: https://www.youtube.com/watch?v=Ry-yAXCn4kw
After Us, the Flood
Directed by: Dorota Vlnová
Producer: HITCHHIKER Cinema (SK), Co-producers: Regional Association for Nature Conservation and Sustainable development BROZ, Radio and Television Slovakia (SK)
Extreme droughts, unbearable urban heatwaves and the melting of the Demänovská ice cave. We do not have to go to burning Australia or the melting Arctic for obvious evidence of climate change. We have it right here, in our backyard. Thanks to a farmer, a psychologist and a speleologist we identify the drastic consequences of climate change in Slovakia and possible solutions to the crisis we find ourselves in.
Impact days – tutors:
Hasse van Nunen – impact producer and documentary producer of production company Een van de jongens – www.eenvandejongens.com
Frederika Halászová – PR manager at Seesame, former PR manager and head of fundraising at the non-profit organization People in Need
Lucia Pašková – co-founder of CURADEN Slovakia, strategist and visionary for Curaprox and other brands
Alexandra Poláková-Suchalová – Institute of Public Policy. She focuses on issues of civic participation, within which she cooperates externally with the Office of the Plenipotentiary for the Development of Civil Society.
Alexandra Dzureková – from the non-profit organization League for Mental Health
Petra Žilinčanová and Karol Kleinmann – an expert team from the ksebe.sk project
Lukáš Osvald – Head of the Global Education Department of the non-profit organization People in Need, Head of the European Union's One Planet for All project
Ondrej Starinský – Head of Documentary and Educational Production at RTVS
Impact days – an international jury
Margje de Koning (Netherlands)
After finishing her studies, she made all sorts of documentaries for many different broadcasting companies for 12 years. In 2004 she became a part time teacher at the Culture & Media studies (department Film& Television at the University of Amsterdam). In August 2004, she became Commissioning Editor for a documentary slot of 52' docs. This meant producing and co-producing creative single 52ʹ-documentaries. Since January 2005 she was responsible for the Television Department of IKON and on January 2012 she became Head of TV, Radio and New Media programming at IKON. From January 2016 IKON has been incorporated within EO with Margje de Koning as Commissioning Editor Documentaries for EO, JDocs and IKONdocs. Since June 2019, Margje has been artistic director of Movies that Matter.
Zuzana Wienk (Slovakia)
Graduated in journalism, worked at Radio Twist and Slovak Television, wrote for Domino Forum magazine. From 2002 to 2018, she was the director of the organization Fair-play Alliance, and for many years she was one of the most quoted analysts in Slovakia. Since May 2016, she has been a member of the steering committee of the Open Government Partnership, and since 2019 she has been the head of the civic association Bystriny, which organizes, among other things, the White Crow award.
Alexandra Poláková-Suchalová (Slovakia)
She is the first graduate of the Master's and PhD in Public Policy at the Institute of Public Policy, which she completed in 2010 with the defence of her dissertation focused on social housing issues. Since 2011 she has been working at the Institute of Public Policy as an assistant professor, which she interrupted for a while on maternity leave, then returned to this position. She is engaged in teaching activities through courses in scientific writing techniques and public policy tools. In her research, she focuses on issues of civic participation, within which she cooperates externally with the Office of the Plenipotentiary for the Development of Civil Society of the Slovak Republic.
Betteries – a prize for the winner of the Impact days
At the end, an international jury will award the most interesting campaign with a prize from the Berlin company Betteries. Their Mission is to upcycle all electric vehicle batteries into affordable power systems to avert climate change and protect valuable resources.
· Mobile "Click and go" solution with no cabling, weighing less than 35kg
· Modular Stacking of up to 4 battery modules for 9+ kWh
· Multipurpose Customized application module with bi-directional inverter (AC & DC)
· Optimized battery life Innovative BMS optimized for 2nd life cells
· Robust & waterproof Marinized (IP67) casing
· Connected GPS plus Wi-fi and GMS connectivity, over the air updates
FINANCIAL PARTNERS